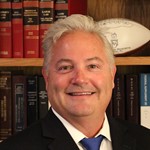 CHRISTOPHER E. BEMBEN
Former State Prosecutor - 10 yrs.
Christopher E. Bemben graduated from Western Illinois University in 1994 with Bachelor Of Arts, and graduated from John Marshal Law School in 1998.

Mr. Bemben is currently the President of Bemben Law Group located in Melrose Park, Illinois. He was a former State Prosecutor following Law School, where he prosecuted Misdemeanor and Felony cases for the State of Illinois. Mr. Bemben worked in the DUI/Traffic Division where he prosecuted over 1,000 DUI/Traffic cases. He was then transferred to the Misdemeanor and Felony Division, where he continued to prosecute 100's of cases for the State of Illinois.

Mr. Bemben is currently a member of the Illinois State Bar Association, Chicago Bar Association, Northwest Bar Association, and the West Suburban Bar Association, where he served a term as Board of Governor.

His Group now concentrates in the areas of Criminal Defense, Traffic Violations, Driver's License Reinstatement with the Illinois Secretary of State, and Personal Injury. Mr. Bemben has run a knowledgeable and aggressive practice for almost 20 years.